Fatima's story
Fatima lives in Nigeria with her brother and her parents.
Her father is a farmer and struggles to find enough food for the family to eat. They currently live in a house belonging to another family. Without money to pay for school uniforms, books and other materials Fatima is unable to go to school.
"My name is Fatima and I am 10 years old. I live with my three-year-old brother Umaru and my mother and father in a friend's house.
"Every morning I say my prayers and help my mother by collecting water, cooking and doing other chores around the house. When we have onions to sell I go out hawking (selling) but when there are none I stay at home. I don't go to school because my parents are poor. It makes me feel unhappy that I am not going to school.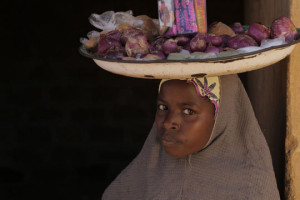 "My friends are called Fadila, Ummi and Hadiza. I feel so bad when I watch my friends walking off to school. I would love to join them instead of going out hawking. If I did go to school one day I would like to work in a hospital."
Fatima's parents never had the chance to go to school. Fatima's mother, Hadiza, says: " I would like Fatima and her brother to go to school, but we cannot provide for the demands from the school. If they become educated I think their future life will be better."
Download resources