Apply to be a Campaign Champion!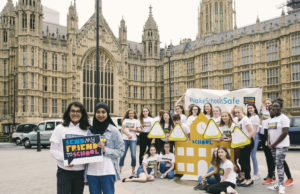 Calling all Year 9 and 10 teachers – we're on the lookout for Campaign Champions!
Do you, and your students, care about ensuring every child across the world gets a quality education? Do you know some outstanding young people who want to use their voices to campaign for change? Passionate about global learning? Want to learn new skills? Excited by learning beyond the classroom? Then this is the programme for your school!
In 2020, we will be campaigning on the impact of climate change on education around the world, as well as why education is one of the most important tools we have in combatting climate change.

The Send My Friend to School campaign is looking for Year 9 & 10 students to join our exciting and established Campaign Champions programme.
What does being a Campaign Champion involve?
– Teachers and students take part in a free action-packed residential campaign training in the last weekend of March
– Use what you learn to take the campaign message to the heart of government, meeting with MPs, Ministers and other high-level figures, and influence the 2020 international climate change conference taking place in the UK in November 2020
– Be a champion for the Send My Friend to School campaign within your school and wider community by running local action and events
-Take part in exciting actions such as our Parliamentary Action Day in June, political party conferences, high-level panel events, photo stunts, and much more!
The programme is open to Year 9 & 10 students. Each school can put forward one application for a pair of two students plus one teacher to attend. To apply, please download and fill out our application form and send it to hannah.nixon@sendmyfriend.org by Friday 20th December.
Still need convincing? Hear from some of our past Campaign Champion teachers on the residential training:
"We all loved it. Really well organised, great activities, guest speakers." – Mary, Campaign Champion teacher, Sheffield.
"The sessions were jam packed full of things and they were fun, clear and had informative content. It was great to have the leaders sharing their passion and knowledge, I think it really rubbed off onto the students." – Stewart, Campaign Champion teacher, Nottingham.
We look forward to hearing from you! 
If you have any questions about the programme or would like some more information, please don't hesitate to contact Hannah McLean-Knight on hannah.mcleanknight@sendmyfriend.org.