Pupils representing nine primary and secondary schools in Essex came together to ask the UK Foreign Secretary James Cleverly to facilitate more support for the education of their peers in countries affected by armed conflicts, climate-induced disasters and other emergencies.
The meeting with the Foreign Secretary was held in the Colne Engaine primary school in Cleverly's Braintree constituency. Organised by the Send My Friend to School initiative, the pupils asked for the UK to pledge £170 million towards the improvement of conditions of education for millions of children around the world.  This pledge would directly provide 2.6 million children in an emergency or protracted crisis with quality education, of whom 60% would be girls.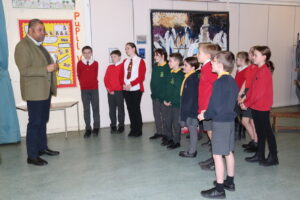 The UK contributes through the Education Cannot Wait (ECW) global fund as a founding member and one of the major donors. ECW is the world's first and only global fund for education in emergencies.  Its mission is to generate greater shared political, operational and financial commitment to meet the educational needs of millions of children and young people. 
The fund has a global target of $1.5 billion for a four-year period in order to reach 20 million children with quality education in crisis-affected countries. The programmes target the enhancement of school buildings and facilities, teachers' training, inclusion of children with disabilities, girls' education as well as school meals.  Since the Fund's establishment in 2016, ECW has reached almost 7 million children and adolescents in some of the toughest crises in the world.
In order to visualise their request for generous funding, the pupils had written their 222 dreams for their 222 million peers on postcards, which they handed them to Cleverly during the meeting. 
One of the participating pupils, Jenson, said,
"We think every child has the right to have an education. Reasons that stop children from going to school include natural disasters and disease, war and famine and all are not chosen by the children."  
Herbert and Grace, other activists, added,
"We have been thinking about children that cannot go to school and get an education. They might not be able to learn to read and write, or build friendships, or work on their social skills being in school with others. When you are at school, you feel safe and happy, have a hot dinner to fill you up. But if you can't go to school, you can't see others or feel safe." 
The Send My Friend to School campaign is convened by a UK coalition of international development NGOs, teachers' unions and charities. It advocates for quality education across the globe for children on the frontline of emergencies. It is estimated that 222 million children and adolescents around the world have had their education disrupted by various crises.
On 16-17 February, ECW and Switzerland will host the ECW High-Level Financing Conference in Geneva where the UK and other Governments are invited to announce their new financial contributions to ECW. 
Scroll through to see some examples of their messages of hope here!