Wow. It's so amazing to see all the fantastic youth action happening all around the country for the #MakeSchoolsSafe campaign – over 150,000 UK school students are taking part so far!
Haven't got involved yet? What are you waiting for? The Week of Action is coming up on 18-22nd June – this would be a perfect time to get involved. Download your Teacher's Pack now with everything you need to get the campaign going in your school.
Here are some highlights from the brilliant activity happening across the country:
1. Year 7 students from Sir John Lawes School in Hertfordshire used their bodies to create this incredible Make Schools Safe aerial photo in their school field! It received a lot of attention on social media, even Penny Mordaunt MP, Secretary of State for International Development tweeted about it.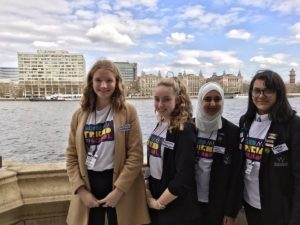 2. Maryam & Aaisha from Woodside High in North London, and Lily & Evey from Alun School in North Wales recently represented the Send My Friend campaign at an event in parliament. Maryam said: 'The event was to discuss girls in emergencies and how the UK and the Commonwealth are empowering girls in times of crisis. Lily, my fellow Campaign Champion, spoke about the need for the UK to implement the Safe Schools Declaration. Some of the other speakers included Boris Johnson MP, who is the UK Foreign Secretary, and Julie Bishop MP, who is the Minister for Foreign Affairs in Australia. Boris Johnson said: "Girls are twice as likely to be out of school as boys, and more likely to experience gender-based violence. This year one of my main focuses will be to ensure that girls in the poorest countries in the world receive at least 12 years of quality education." Muzoon Almellehan, UNICEF Goodwill Ambassador and a Syrian refugee spoke about how education can transform young people and girls into the next world leaders. It was insightful to speak to her because she had to live in conflict and is using this experience to spread the urgent message of education worldwide on behalf of those who don't have a voice. It was great meeting everyone and discussing what the Send My Friend To School Campaign Champions do and how I am campaigning within my school and local area. It was also an inspiration to meet other campaigners who are just as passionate as I am about getting all young people living in unsafe areas access to a quality education.'
3. Over 250 children, staff members and authors (& two horses!) from eleven schools took part in a 75-mile #BaytoHay relay walk from the Welsh Senedd (Cardiff Bay) to Hay-on-Wye to raise awareness for Send My Friend to School. They collected #MakeSchoolSafe letters from each of the schools in a baton which they presented at the Hay Festival to two MPs, Chris Davies and Nick Thomas-Symonds. The two MPs alongside the schools and the Hay Festival are now planning a final leg of the baton's journey – taking it to Number 10 Downing Street before the end of term!
4. Year 8 students from Longdean school in Hemel Hempstead met with Secretary of State for International Development Penny Mordaunt MP, alongside their local MP Sir Mike Penning. The young campaigners presented their ideas on global education, the work that they had been doing to promote the campaign in their school and presented some boxes they had made with signatures of support from other students. The Secretary of State was very receptive and spoke to the campaigners about why education is important and the work that DFID is doing on girls' education specifically.
5. Michael and Nana from Wilmington Academy in Kent came to Parliament to represent Send My Friend to School at an event all about how important Global Learning is. They met with Harriet Baldwin MP, Minister of State for International Development – she gave them a high five to celebrate the U.K. signing the Safe Schools Declaration and discussed what more can be done to #MakeSchoolsSafe
Huge well done to everyone involved in the campaign across the country. If you haven't already, do download your Teacher Pack and join our Week of Action 18th-22nd June (or anytime if that week doesn't suit).