Young people from all over the UK came together yesterday in Westminster to challenge politicians on what they are doing to get education for all children worldwide, even in emergencies.
They travelled from as far afield as Chester, Folkestone, Lowestoft, and Loughborough, as well as from two London schools, and were joined by young activists from Mali, Nigeria and Bangladesh.
They gathered to share what they had already done for the Send My Friend to School campaign and discuss the challenges of getting a quality education for the 37 million children missing out on school in countries affected by war and disaster.
Currently an additional £3 billion a year is urgently needed to support children in crisis situations so the young people wanted to know what the UK government could do to help more.
During the morning they worked together to devise questions to put to a number of MPs and to Nick Hurd, the Parliamentary Under Secretary of State for International Development.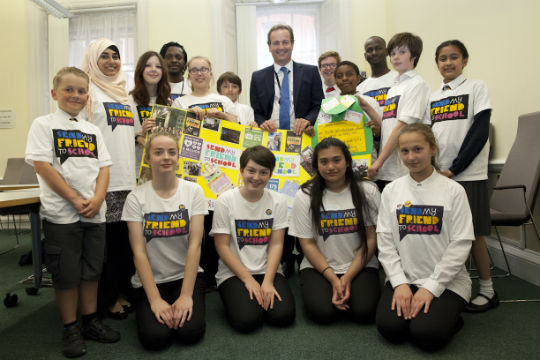 Oliver, 10, Saint Mary's Primary School in Folkestone, was the youngest of the group. He said: "I am concerned about girls getting an education because I feel there is room for improvement. I was most excited about meeting the Minister and I liked asking questions, which were listened to and answered. Minister Nick Hurd said that DfID has already sent 11 million children to school that are suffering in poverty."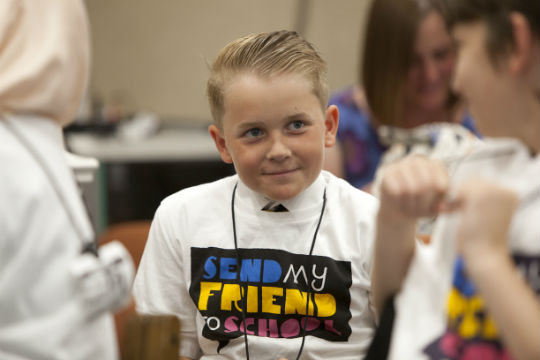 The young campaigners questions ranged from asking what the UK government was already doing to promote lifelong learning for the Syrian children who have already missed out on years of schooling, to how they will influence other countries to contribute to the important new 'Education Cannot Wait' fund for education in emergencies, through to what they are doing to ensure that children in emergency situations get the trained teachers they desperately need in both the short and long term.
They also met MPs who are part of the All Party Parliamentary Group (APPG) on Global Education, and are working to champion the issue in Parliament, to hear more about this work.
And MPs from the schools' constituencies came along to hear from the young campaigners about the issue and answer their questions personally.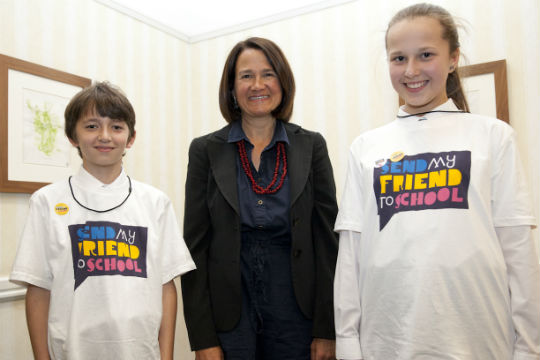 Mal, 12, Woodside High School, met his MP, Catherine West (pictured above with Mal and Alexandra). He said: "I am excited about having the opportunity to contribute and speak up for millions of children my age who do not have a voice and even though we are young this is a great way to have an impact."
The group delivered hundreds of paper rucksacks made by pupils in their schools to the door of No 10 to make sure that their message got heard right at the top.
Alexandra, 12, Woodside High School, said: "I am really excited about going to Downing Street and delivering the send my friend to school box because this campaign can help children get an education all over the world with the help of the government."

Jessica, 15, Upton by Chester High School, said: "I feel proud of the campaign and what it has been able to achieve. I am proud of my peers who have contributed to this incredible campaign and made this all possible. It's incredible how this message can be spread all over the world by working together."