Our young ambassadors, Sam and Millie, have travelled to New York to be part of the first ever UN youth takeover on 12th July.
They met young campaigners from around the world and heard an address from Malala Yousafzai, the Pakistani schoolgirl who was shot by the Taliban last year for speaking out about girls' rights to education.
Read their blogs below to find out more.
Friday 12th July – MALALA DAY
The big day is here, Malala Day! Here we are, pictured outside the UN building in New York!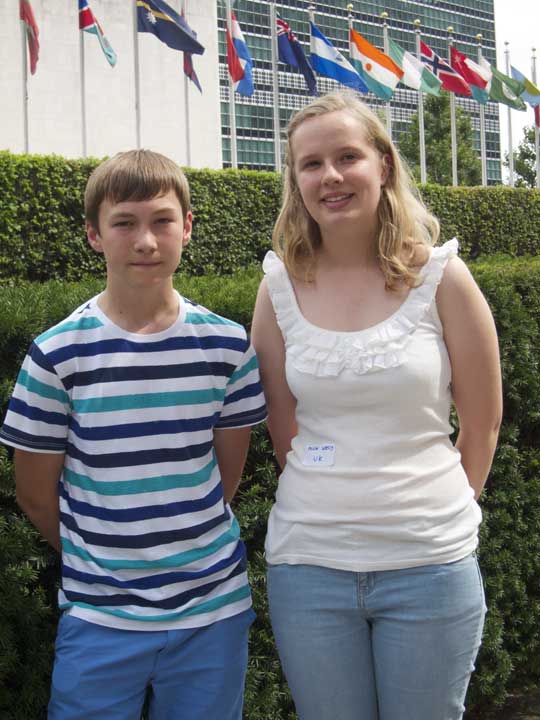 We found our space in the queue and waited in anticipation for Malala's first speech since her barbaric attack on 9th October 2012. We passed through security and made our way to the Trusteeship Council Chamber where the event would be taking place.
We took our seats with Annika Erickson Pearson a young campaigner from the Global Campaign for Education US who we had met the previous night, and has the shared goal, as with everyone in the chamber, to get universal primary education by 2015.
The room was buzzing! Then, as the room fell silent, dignitaries from the UN entered with the star of the day amongst them, Malala appeared! Everyone leapt to their feet and started cheering and applauding the 'bravest girl in the world'.
She protested against the Taliban government by attending school and campaigning for girls' education even though they forbid it. So they shot her! As Malala said herself, 'They thought that they had silenced me, but they failed. Out of the silence came thousands of voices.'
It started by an opening speech by Vuk Jeremic who, to inform world leaders of the importance of education, quoted Nelson Mandela saying 'Education is the most powerful weapon to change the world'.
Then Ban-Ki-Moon followed and reiterated the importance of education and the significance of young people taking over the UN.
Next Gordon Brown, the UN special envoy for global education, gave a powerful introduction to Malala Yousafzai on this, the occasion of her 16th birthday. 'You can last 30 days without food, you can last 8 days without water, you can last 8 minutes without air, but you can't last a second without hope'.
There was an explosion of sound to welcome Malala to the microphone. 'Malala Day is not my day. Today is the day of every woman, every girl and every boy who have raised their voice for their rights'. Malala's speech was truly inspirational and was one of the most moving speeches we have ever heard. She said: 'We realised the value of books and pens when we saw guns.'
We feel it is impossible to convey the emotion that charged the room.
Here is the link to both the transcript and video footage of her speech. Let this inspire you:
https://secure.aworldatschool.org/page/content/the-text-of-malala-yousafzais-speech-at-the-united-nations
http://www.youtube.com/watch?v=B5X70VyjU0g
This memorable speech brought all 500 young people to their feet in long and spontaneous applause. Malala has given hope to so many, we are sure that this will be a historic turning point to finally reaching the shared goal of education for ALL.
Next we had a stall in the Youth Fair so that we had our opportunity to explain the Send My Friend to School campaign to all of the other participants at Malala Day. We met some truly interesting people, including teachers from around the world who wanted an activity to do with their students. So we gave them our 'ideal teacher' puppet exercise along with our contact details so that they could send us their suggestions as well as pictures and make our campaign international.
Whilst at the Youth Fair many TV channels and other organisations wanted interviews with us like 'The Voice of America' and Gordon Brown's office. They all wanted to hear what we thought of Malala's speech and what it would inspire us to move forward and do. Obviously we said that her speech was one of the most moving and memorable moments in our lives and that we would continue to advocate the message of the global campaign for education through any means possible.
Then there was sudden excitement… 'a special guest is coming, a special guest is coming'! Mr Gordon Brown MP arrived in the room and was escorted across to an awaiting TV camera for an interview about the day. Then as he was making his move away Sam ran up to him and asked him to take part in our exercise to create an ideal teacher puppet, to which he obliged. He wrote 'My ideal teacher was the one I had when I was young'.
Later there were breakout sessions to do with skills building where they wanted one of us to speak about the advocacy that we had been doing in our campaign. Millie spoke as part of a panel, which consisted of 6 young campaigners. There was time for a Q&A at the end, an interesting one was 'what would you suggest to engage friend and family that don't understand the campaign?' The ideas that came out of the break-out session we felt were really useful and gave us other ideas to campaign in our own countries.
We hope this event is the first of many, so the young generation have a chance to influence world leaders and continue to bring international media attention to this issue. The day highlighted how much young people have to offer with such energy and dynamic ideas to help get all children into education. We realised how much potential power and influence we can have if we work together.
The closing ceremony ended with sharing stories of similar events to Malala Day which were happening in a number of other countries, including London.
Angelique Kidjo perfomed and everyone danced and sang along, it was a great way to reflect and enjoy the last event of the day.
Gordon Brown then ended with a really powerful story about a boy called David.
"Written on the gravestone of a young boy in Rwanda is:
Name: David
Age: 12
Hobby: making people smile
Favorite Sport: Football
Last Words to Mother: The UN are coming and will help us.
However the UN did not come and so had failed him. All young people must keep reminding world leaders that they cannot fail another child ever again."
We are still on such a high from Malala Day!
Thursday 11th July
The first appointment we had on our first full day in 'The Big Apple' was with the Deputy UK Ambassador to the UN, Philip Parham. We had three main talking points from the youth outcomes document that we wanted to address including girls, children with disabilities and the global lack of trained teachers.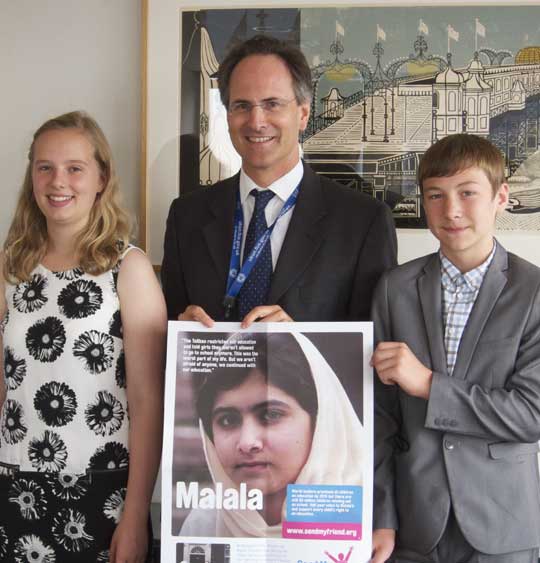 We discussed the 1.7 million professional teachers needed with him. He said that, like us, he feels that a proportion of the UK's international aid should be targeted at training more teachers so that the quality of education and learning can rise.
Next, we wanted to talk to him about the amount of girls who miss out on an education. We told him of what we had seen in India; sometimes girls miss out because of their culture or due to them being pulled out of school as they are being sexually teased or harassed. Again he was supportive of our cause and explained that the UK government is trying to support 1 million more of the poorest girls in school through the Girls' Education Challenge. This is an initiative that calls upon national government organisations (NGOs), charities and the private sector to find better ways of ensuring girls receive a quality of education and transform their future.
He was keen to say how important the British government was in working towards progress on education. This week, the UK government has reached their commitment of 0.7% of GNI on international aid. This, he thinks has given the UK soft power within the UN to take leadership in achieving the promises made at the Millennium.
Finally we expressed our concern about the education of children with disabilities. We felt very strongly about this issue as we had met the inspiring young campaigners from Leonard Cheshire Disability the previous night. We communicated the stories of Markson and Andira who did not only face access to education as a barrier but also the quality of education they had once they received one. Mr Parham explained that this was also an issue close to his heart as one of his children has a disability. He also said, we need to disaggregate the figures to make sure that more children are accessing education across all groups of society as an education for all really should mean an education for ALL.
Next was our Youth Orientation session that had the purpose of firing everybody up ready for Malala Day tomorrow. It was great to finally get into the UN building and while lining up to pass through security it was really nice to talk to other campaigners from all around the world!! Once in the orientation session the atmosphere was great with everyone chanting. Chernor Bah, the Chair of the Youth Advisory Group (YAG) led the session and got everyone in the mood by calling out , "I say Malala, you say Day' then everyone would chant 'Malala' 'Day', 'Malala' 'Day!' We split into small groups and had discussions about what inspired us to come to Malala Day and campaign for education for all.
Next we discussed and put forward ideas of how to sum up the need for education in one line. Lastly we came up with commitments for education, which the best would be said in the main Malala Day event tomorrow. The session ended with a hot seat between 2 influential people where questions could be fired at them. This orientation session was fantastic to meet and have discussions with other young people, cant wait for Malala Day tomorrow.
We were privileged to meet Zarmina Rasouli, a young Afghan woman who joined us in our hotel and talked to us about being a girl in Afghanistan. As we expected, it had been very difficult. The five years of Taliban rule saw the erosion of many rights of women (and men) n the country. Women were often confined to their homes and girls were out of school and many of her friends had been forced to marry young.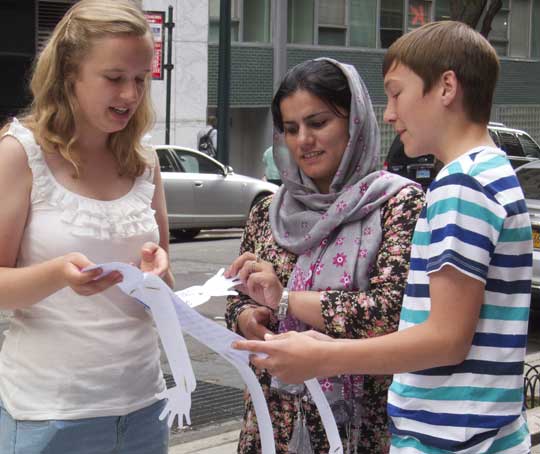 We learnt that while many of her friends' parents left the country for Pakistan, her parents remained in Afghanistan. This was the first time she mentioned her parents. They were critical in her life story. As she couldn't leave her home, this meant she couldn't continue her education.
Despite these risks, Zarmina took the risk and mustered up the courage to return to school in 2005 to complete her 12th standard education. Even when studying, she wanted to do more and she joined a local group ARU (a partner of Action Aid) as a social organiser during her summer holidays. She also joined Action Aid in mid 2005 as a volunteer.
We heard she is now doing a degree in Business accounting while working as a Provincial Manager for ActionAid covering in 288 villages. She works in the most marginalised communities where there are specific problems relating to women and children. Her example has motivated many girls to come out of homes and go back into education, and as a result of Action Aid's programme, more than 300 girls have completed 12th standard.
When asked why she withstood the pressure from the Taliban, she credited her parents. Zarmina's Dad, when asked whether he wanted Zarmina to marry, he replied, "No, you will have to kill me first." She also spoke about the importance of Action Aid's work that was different in towns and rural areas, and about network groups and practical actions that help get children into school.
We found her story of perseverance very moving and very much hope we will be able to meet up again tomorrow, on Malala Day.
Wednesday 10th July: New York
We have arrived in New York after a long journey from London! As soon as we got out of the airport the humidity hit us, quite a difference from the weather in England. We enjoyed our journey to the hotel in the famous yellow taxi which also gave us a great chance to see New York from a distance.
Once at our hotel we went for a small walk to get our bearings. Then we went to the UNICEF 'picnic' to meet and get to know some of the other young ambassadors that would also be attending 'Malala Day'. It was really interesting hearing about the organisations and the campaigning they do in their countries.
Millie talked to Andira, a young campaigner from Indonesia who is visually impaired and has other disabilities, and it was a fascinating and inspiring to hear her story. She talked about the struggle that she had in getting into school and of other children.
Andira was lucky enough to get an education, but by no means was it easy. She explained to Millie that the only way she eventually got into school was because of a personal approach to the teacher; Andira would go and beg the teacher to allow her to be included in class and be accepted for who she was. Even once in school the teachers weren't trained properly to support her, and she had to provide any specialist materials with her own money.

Sam talked to Markson, 19, another disabled young campaigner from Kenya. His concern about getting children with disabilities into education was not just simply access to education but rather the treatment they received once he was in school. He personally found that people were 'over helpful' as they felt that help was needed when in reality he could manage to do the task himself.
Also he felt that the teachers did not have sufficient training to help support those in need as only a select few teachers are trained suitably. Therefore the children can only be taught by them and so not get the full opportunities that others throughout his school got.
We also had a conversation with Abigail from Zambia. She talked about how she had to plead everyday to try and get into school which didn't work. So eventually she got sponsored to go to school by CAMFED. She went on to complete her education and feels so fortunate to have had the chance to go to school. She now works with CAMFED to help other children who were in a similar situation to her. Abigail's story was truly inspiring for us both, against the odds she got her education.
We're now getting loads of Tweets from our Global Campaigners group at Ringwood who are off to Westminster on Friday for Malala Day and are very excited. The atmosphere in New York is building too as we are meeting more and more young people who have gathered here from all over the world all united in the fight for education.
Tuesday 9th July: Westminster event
We were invited to an All Party Parliamentary Group (APPG) for Global Education. Once we arrived in Parliament we made our way to the Jubilee Room to meet Mark Williams MP who was chairing the APPG discussion. We briefly met him and some old faces from our fact finding mission to Delhi earlier this year, like Samidha Garg from NUT and Sarah Dransfield from Oxfam.
We took our seats at the front of the room so that Mark Williams could open the event before we stood up to make our presentation to the many MPs and civil society in the room.
We talked about what we had seen in Delhi and what we had done during our time as Young Ambassadors. We also tried to communicate our passion that we feel strongly that world leaders need to complete their pledge that ALL children are in education, but also to start thinking about the quality of education that children receive.
After our speech two more guest speakers from different organisations, VSO and UNESCO talked about what their groups do as well as the problems that they feel exist with global education.
There was then a chance to mingle, talk about their individual opinions and exchange contact details with very interesting people. We met Mahesh Chandrasekar from Leonard Cheshire Disability, who we talked to about the problems children with disabilities face in getting into education.
We learnt that it is not just access that children face as a barrier but rather the fact that teachers are not properly trained to support those who need it.
Next, we met Desmond Swayne our local MP, to present him with our schools 'ideal teacher' puppets and letters detailing what our students think makes an ideal teacher as well as how passionate they feel about education. These letters also explain what they feel should be done to keep pushing to the end goal 'primary education for all'.
Mr Swayne seemed quietly inspired and pleased that we were pursing a goal that we both felt so passionate for and he said that he would pass all of our messages onto the Prime Minister David Cameron.
It was a really motivating day to spur us onto our next mission, the youth-takeover of the United Nations for Malala Day.